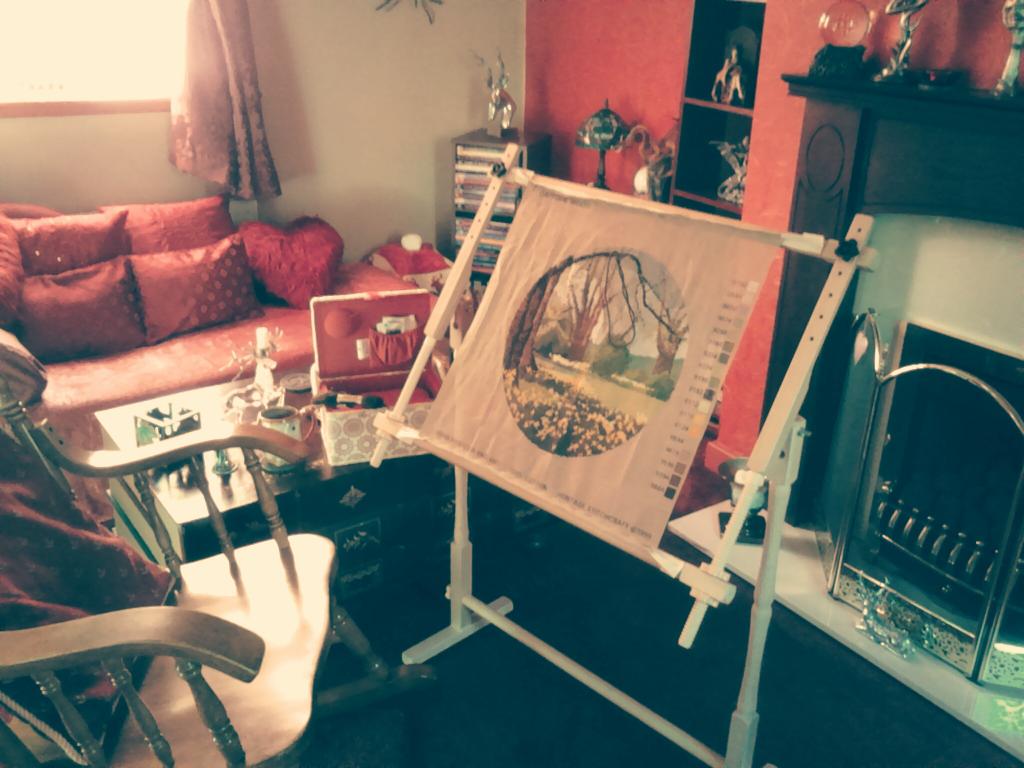 A tapestry of dreams... this is my frame all set up and ready to use.

Today I have been enjoying the very feminine pass-time of needle craft...tapestry to be exact. From the time I was a young girl I have loved sitting quietly with a piece of needle work, stitching the hours and minutes away. I can recall asking for my first embroidery hoop instead of a chocolate egg one Easter when I was about 11 - I received both a hoop and an egg from the Easter Bunny that year. It was the start of a lifelong hobby and I have done quite a few tapestries since then.
I'm not a fan of counted cross-stitch - it's too much like maths and plotting points for my taste - but I do love stitching tapestry. I tend to purchase the kits that are all inclusive, with all the yarns you need and the correct size tapestry needle for the canvas. I usually go for a colour printed canvas kit, with wool or silk threads. One of my favourite things to do when I was a kid was colouring-in and to me tapestry is just like colouring-in, but with threads instead of felt-tip pens!
I recently purchased a new floor standing tapestry frame (pictured above) with a bit of pin-money and I love it so much. I've had a couple of these before, but the first floor standing one was a Standard size and a little too tall for me to work at comfortably. The second one I got was a table top one, which I still have and use from time to time. This new one is a Petite size, as I'm only 5' 2" so it is just the right height for me. The frame itself is adjustable too so it can accommodate a range of different size needle work canvases, plus the tension is also adjustable, helping to keep the canvas nice and tight. You can find tapestry kits and frames on Amazon UK if it is something that interests you.
Working on a tapestry is one of the ways I like to relax. I can stitch away while watching a DVD or listening to soft music. I tend to listen to Enya while I stitch and that is what I have been doing today, as the spring sunshine dappled the room. Needle craft is a great form of meditation. Like
knitting and crochet,
it is one of the feminine arts and can bring groups of women together in a circle of industry and craft work. It can alleviate boredom without being taxing, so it is the ideal occupation for a lazy day, keeping idle hands busy while allowing the mind a chance to switch off.
There is a romantic feel to sitting behind a tapestry frame, or holding an embroidery hoop in your hands. It is reminiscent of medieval ladies creating a decorative arras to adorn cold castle walls; of Jane Austen heroines bent over their hoops or the Little Women enjoying sister-time together as they stitch and sew. Needlework connects modern women to the greater sisterhood of the past. On a practical level we should all be capable of sewing on a button or doing a quick sartorial repair so working tapestry can help you to keep up with essential mending skills. And you might be surprised at how handy a few sewing skills can be in various situations - I've used this skill for sewing show ring plaits into a horse's mane and for stitching ribbons on ballet shoes, so it is not just confined to the house.
I do believe that the older we get the more skills we acquire and the more we learn. Sewing should be viewed as an accomplishment, as it used to be. Thankfully modern women are reclaiming it, snapping up Cath Kidston sewing sets and being inspired by the great fashion designers, as well as the weavers and tapestry workers of the past. I am by no means a great seamstress and my mother is far more accomplished than me, but I still enjoy the sound of the needle snapping through the canvas and the pull of the thread, creating a tiny stitch that in time builds a bigger picture. It may take me some time to complete the Daffodil Woods tapestry that is currently on my frame, but you can be sure that when it is finished, it will quickly be replaced with another. In fact, I already have my eye on a new kit, so watch this space.
In the meantime I plan to sit at my frame with a glass of wine or cup of tea to hand, carefully stitching the image into being, creating a colourful tapestry from a rainbow of threads, content to play a small part in the greater tapestry of feminine art.