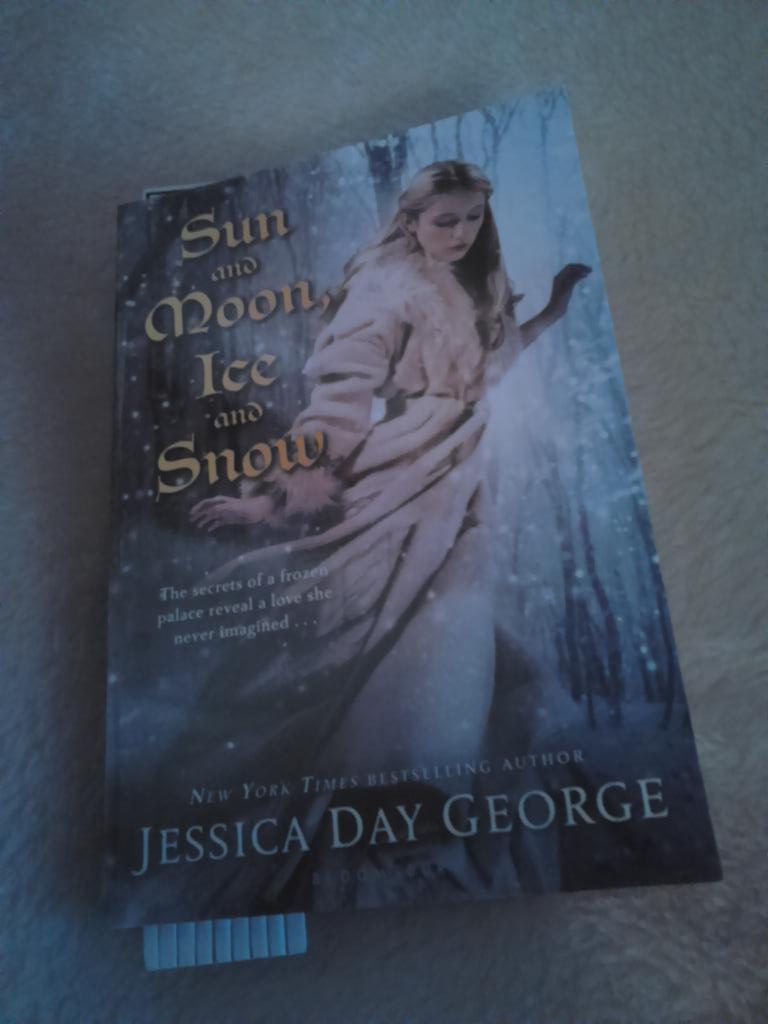 It is a cold, frosty night as I begin to write this post and I am snuggled under the faux fur throw, sipping on hot spiced fruit punch to keep out the chill. I have a Yankee Snowflake Cookie candle burning, to make the house smell festive, and after a long day of Christmas shopping, I feel like I am getting into the winter spirit, no doubt helped along by this fabulous book, which I have just finished reading.
Sun and Moon, Ice and Snow by Jessica Day George is a retelling of the classic Norwegian fairytale East of the Sun and West of the Moon, which is also an album by my favourite band A-HA. From being a young girl I have always wanted to go to Norway, possibly for my birthday one year, and this book has revived that dream in me again. I really want to see for myself the frozen snowy landscapes that are described in this novel, because it sounds just like a real life fairytale.
I could feel the cold as I read this book; the world building is that strong upon the page that it lingers in the mind. It tells the story of a poor lass with no name and no prospects, but after coming upon a magical white hart reindeer and freeing him from the brambles he is trapped in, the girl is granted a boon. She is given a secret name and the ability to talk to animals and hear their words. The girl soon becomes well known for her special gift and before long an enchanted polar bear comes calling, begging her to help him by living with him for a year and a day. The girl agrees and her adventure begins, taking her across a vast land of ice and snow.
The bear lives in a magical ice palace, where log fires blaze in the hearths but the palace doesn't melt. The girl is introduced to luxury and fine dining for the first time in her life and she is given a beautiful suit of rooms in the palace, including a dressing room full of wonderful ballgowns and lovely clothes. She settles in and with her pet wolf, Rollo, for company, she begins to explore.
Thus far the novel has undertones of Beauty and the Beast, but this tale as old as time has a distinctly Norse twist, for in order to break the enchantment and free the bear, the girl must first decipher the strange runic language carved into the ice pillars and fireplaces of the palace. The story incorporates lots of Norse mythology, and magical creatures such as trolls, selkies, fauns and centaurs, all play a part. The girl meets the Three Norns and the Four Winds as she continues in her quest to free the bear and she must make the journey to find the Queen's palace that lies east of the sun and west of the moon.
It is a very wintry tale of swirling snow flurries, and in a way I wish I had waited a few weeks to read it, as this is a novel that begs to be read by the twinkling lights of a Christmas tree, while snuggled into a mermaid blanket or faux furs. Even the character of the North Wind looks just like a white and silver version of Father Christmas! So if you are looking for something to read during the festive season when you have time off work, this book is ideal. And if you think the cover girl looks familiar, that's because it is modelled by You Tuber FreddyMyLove adding her charm to the overall beauty of the book.
If you like wintry Narnian style fairytales then I am sure that you will really enjoy Sun and Moon, Ice and Snow. It has certainly got me all ready for winter. Enjoy!